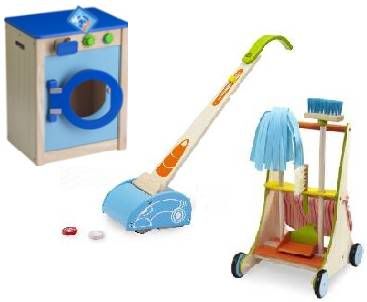 When children play they often dream about the things they'll do when they grow up. Things that seem mundane to adults take on an exciting new life when seen through kids' eyes. Smart Gear Pretend Play Toys are designed with your child's imagination in mind. These eco-friendly toys are the perfect addition to any game of make-believe.
Complete Your Kitchen
Many girls love the idea of having their own kitchen. Why not give your child everything she needs to cook up a delicious pretend meal? Smart Gear has everything needed to make a kitchen complete, including a child-sized sink, cooker, microwave and refrigerator. If playtime is on the go, the My Portable Cooker is a great choice. Just fold it up and bring it along with you! If space is an issue, the
Smart Gear Wonderwold Cooking Center
combines an oven, a refrigerator and a sink into one compact play station.
Take Care of the House
One of the oldest and most loved types of dramatic play is playing house. Help your toddlers learn more about what goes into caring for a home with Smart Gear cleaning toys. The Wonderworld Wonder Vacuum is perfectly sized for little hands and is small enough to get into all those nooks and crannies. The
Wonderworld Wonder Cleaning Cart
comes with everything a kid needs to keep a neat house, including a child-sized broom, mop, dust pan, hand brush, and storage pouch. All of this fits onto the sturdy rolling cart.
Take a Trip to the Store
Any young entrepreneur will love the chance to open a store of their own with Smart Gear pretend play toys. The
Wonderworld Wonder Store
stand is perfect for a budding shopkeeper, giving him three shelves to display his goods and a cabana-style shade to keep the sun off. This stand is perfect for role-play, especially when paired with the Wonder Shopping Cart. If your young business-man or woman is ready to test their skills on the public, the Wonder Store stand is also ideal for running a lemonade stand.
Commitment to Quality and the Environment
There's no need to give up environmental responsibility in order to give your kids a fun play experience. Smart Gear is a company devoted to taking care of the environment while delivering quality products. Their toys are made with renewably grown
rubberwood
, formaldehyde-free glue, and water-based paints. For every tree that is used to make one of their toys, two more are planted. Even the packaging they use is created from at least 70% recycled materials. These toys prove that a commitment to the environment does not lead to a drop in quality – all of Smart Gear's products are built to last.
There's no reason to sacrifice anything when providing playthings for your child. Kids love the creative games they can play with these attractive and sturdy wooden toys. With Smart Gear Pretend Play Toys, it's easy to entertain your children in an environmentally conscious way.