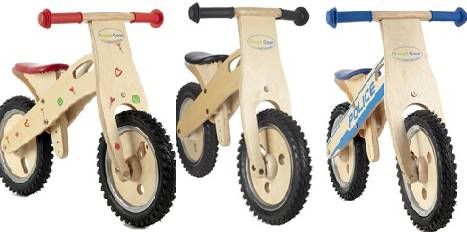 Learning to ride a bike is tough, especially when you're small. Most parents assume that starting their kids out with training wheels is the way to go, but for most kids that may not be the best way. A
balance bike
can offer an alternative to training wheels that readies children for the challenges (and fun) that comes with riding a bike.
What is a Balance Bike?
Smart Gear Balance Bikes are much like regular bikes, but with one key difference – there are no pedals! This gives toddlers a chance to work on their balance without worrying about the coordination required to pedal. To begin with, boys and girls start out by keeping their feet on the ground and walking the bike to where they want to go. Once they feel comfortable with this, they can run to build up speed and scoot along. Finally, they can cruise along on two wheels, perfectly balanced and ready for a pedal bike.
Why Not Training Wheels?
Training wheels do a great job of keeping kids upright, but they don't do much to help build a child's sense of balance. A child who depends on training wheels takes much longer to learn how to balance because they're used to the wheels doing the work. However, with a Smart Gear Balance Bike, kids can focus on balancing, which makes their transition to a standard bike go much more smoothly.
Made for Comfort and Safety
All Smart Gear Balance Bikes are made from eco-friendly materials. Their birch-wood construction also includes comfortable handgrips, spoke-less wheels, and comfortable seats. A built-in handle is included in the body of the bike, which makes carrying a breeze. Most models have an adjustable seat, which lets kids continue to use the bike as they grow. Finally, the handlebars have a limited turning radius, which helps keep kids from jackknifing.
A Design for Any Kid
What fun would a bike be if it didn't take a child's unique personality into consideration? Smart Gear Balance Bikes come in a variety of paints and finishes that are sure to delight any child. For a simple, frills-free bike, the Classic is the way to go.
Sky Rider
is another simple bike that is suitable for any rider. On the other hand, the
Chopper
or flame bikes have bold detailing that really stands out. The Floral Hearts,
Bubbleicious
, and Spring Fever models are sure to please any young girl. Finally, the
Police
Bike will let everyone in the neighborhood know who's in charge. No matter what your child's preferences, there's a bike that's perfect for their unique tastes.
You want to give your child all the support they need as they grow. Smart Gear Balance Bikes are the perfect way to help your kids learn the skills they'll need to ride a bike. They're also a great way to get outside and have some good, active fun. These beautiful, eco-friendly bikes are a great addition to any child's collection of
outdoor toys
.