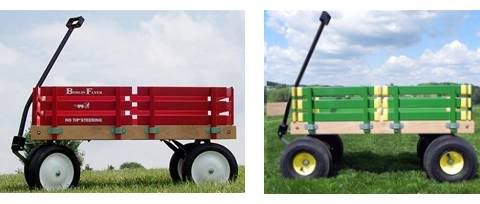 When you're on the go it always helps to have a set of wheels to help you carry things. While you can always load up the car for a trip to the park or the store, you miss out on fresh air and exercise. If you and your kids are looking for a fun, yet practical and useful set of wheels, a Berlin Flyer Wagon is a choice that can't go wrong.
Berlin Flyer Wagons are made in the U.S.A. In fact, they're all produced in the heart of Amish Country in Berlin, Ohio. When you buy one of these wagons, you know that you're buying something that's built to last. This isn't a plastic big-box store special that will fall apart the moment you take it out of the box. Instead, it will last as long as your child needs it to. In fact, it will likely still be around when your kids have children of their own.
So what makes these wagons so long-lasting? It's all about their construction. These wagons are built with naturally finished hardwood that's tough enough to stand up to the banging and bumping that comes with active play. Each wagon features NO-TIP
® safety steering, which is a registered trademark of Berlin Flyer. The lack of tipping both gives your boy or girl a safer play experience and helps eliminate unnecessary damage to the wagon. Depending on the model you choose, your wagon will have either solid rubber tires or inflatable pneumatic tires. Both types are rugged enough to deal with all sorts of terrains and speeds.
You know that Berlin Flyer Wagons are tough, but are they useful? Absolutely! There are a few different sizes available, and each one is perfect for a certain use. For example, the
Berlin Pee-Wee Flyer Wagon
is perfectly sized for kids ages 3-8 to pull around. You can give your little ones a little more responsibility with this wagon, allowing them to pull their own belongings behind them when going on a walking trip. If you're looking for something with a little more space, the popular
Berlin Flyer Wagon
gives you the same easy operation as the Pee-Wee but with a little more storage room. If you're looking for some serious capacity, the
Berlin Loadmaster Wagon
is perfect for both heavy loads and rough terrains.
A final thing to note about these wagons is their looks. Each wagon is carefully crafted and painted to look its best. The classic design brings to mind the style of Radio Flyer wagons, and depending on your preferences the siderails can be painted red or green. Both good looking and hard working – that's tough to beat!
American-made Berlin Flyer Wagons make for a hard-working yet attractive addition to any collection of
outdoor toys
. No matter what your children's age or interests, they'll love having a wagon of their own to help them transport their belongings. They're a surefire way to build memories and have a ton of outdoor fun.