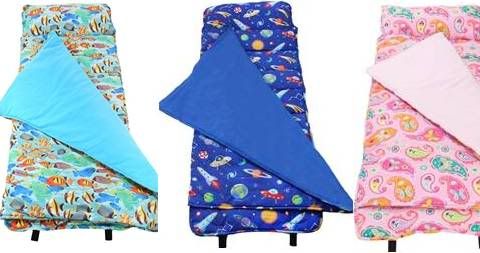 Curling up for a long, cozy nap is one of the best things for a small child to do. However, if your kids don't have a comfortable place to lie down for some shut-eye, naptime can become a nightmare. Wildkin Nap Mats are the perfect solution to naptime blues. They're cute, portable, and best of all, extremely comfortable. Your children will always look forward to naptime with a nap mat in tow!
Comfortable
Trying to nap on a sticky plastic mat does not make for good sleep. That's why Wildkin Nap Mats are designed with comfort in mind. The cotton/polyester lining is cozy and comfortable. A removable pillow can easily be rolled up with the mat to make sure your toddler always has a place to rest his head. Best of all, the attached blanket is lined with fleece, keeping children warm and cozy even on cool days.
Portable
The portability of Wildkin Nap Mats makes them a great choice both for at home and on the go. Keep it spread out at home for an easy way to work naptime into your busy daily schedule. Where this mat really shines, though, is when it's brought to preschool or daycare. They're easy to roll up and secure with sturdy fasteners. Carrying straps make them easy to tote along wherever you're going. Their portability also makes them an ideal choice as a starter sleeping bag for weekend camping trips.
Stylish
Another way that Nap Mats by Wildkin really shine is in the bright colors and designs they display. They're a great way to help your child express his or her individuality as well as make sure he or she knows which mat is theirs. Here are just a few of the many fun and attractive designs available:
Whether it's a quick nap at home or a longer snooze at daycare, a Wildkin Nap Mat is a great way to make sure your little one is getting the shut-eye she needs. Naptime doesn't have to be a struggle – with a cozy, comfortable mat your kids will be snuggling down for some quality shut-eye like a dream.