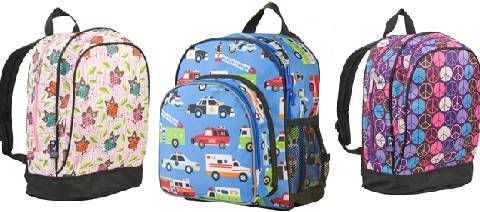 There's nothing that seems to go quicker than a beautiful summer. Before you know it it's time for school and all the accessories that go with it: new clothes, new books, new supplies… and a new backpack. But why send your children back to school with the same hum-drum backpack they had last year?
Wildkin Backpacks
are the way to go for durable, functional, and attractive packs.
It's no secret that kids have a lot of things to carry back and forth to school each day. Books, homework, pens and pencils… even young students end up with a number of items that they're responsible for. When looking for a backpack you'll want something that will help your little girl or boy keep their things organized, as well as hold up to the weight they have to carry.
Many backpacks out there these days are very poorly made. In many cases this just means that you'll have to spend money on a new backpack each year because the previous one has been worn out. In other cases, though, your young student may be forced to carry their pack incorrectly to compensate for the bag's weaknesses. This can be bad for their backs and may even cause them pain.
In order to keep your child comfortable and healthy, choose a high quality Wildkin Backpack. These packs are designed with your child's comfort and safety in mind. Every style of backpack has something a little different to offer – here are a few examples of what they can do for you:
Lunch on the Go: Wildkin Pack 'n Snack Backpacks are perfect for kids who bring their lunch with them to school. They feature an insulated, easy to clean front pocket perfect for storing snacks or lunch. A bigger pocket in the back will give them plenty of room to store books, homework, and writing instruments. Reflective tape on the front of the bag will make sure they are visible and safe in the dark, and there's even a side pocket for holding a water bottle.
Getting Serious: If your child needs more space for homework than food, Wildkin Sidekick Backpacks are the perfect choice. These bags are designed to make organization a breeze. Not only do they have a spacious interior for books and homework, there are also some handy utility pockets on the inside for all those little things that are easily lost. A padded back and adjustable straps help make this backpack comfortable as well as functional.
Something else that makes Wildkin Backpacks a great choice is their sense of style. There are numerous colors and patterns to choose from, making it easy to find something that will suit your child's personality. In many cases you can also find matching accessories by Wildkin like
pencil cases
, lunch bags or boxes that match your backpack.
Give your children the head start they deserve as they make their way off to another school year. Wildkin Backpacks are a fun, stylish way to keep them organized, comfortable, and learning as much as they can.