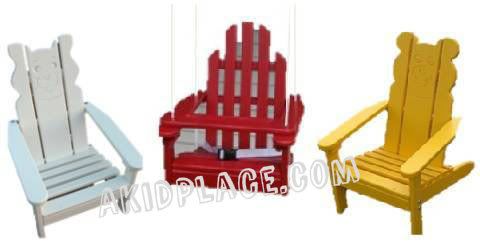 Summer time is backyard time. If your kids are raring to spend some time out in the sun, you might be looking into some furniture for your backyard. Prairie Leisure Kiddie Furniture is the perfect remedy to an empty patio. This furniture is made in the USA and is designed to fit the needs of all kinds of families.
Furniture that Looks Great
Children love furniture that's sized just for them. It's even better if furniture is made in a style that suits their playful spirits. Prairie Leisure Furniture keeps this playfulness in mind while still maintaining a standard of design that will fit in with even the most elegant of patios. The
Kiddie Cat Chair
is a perfect example of this. It is an Adirondack style chair that has the outline of a cat's face on the top. It's a fun and friendly place for kids to rest during family get-togethers or any other kind of backyard fun.
Furniture that Will Last
There's nothing worse than bringing a piece of furniture home and having it break within a week. Prairie Leisure Kiddie Furniture will not leave you with this problem. This furniture is proudly made in America, and it's built to last. All Prairie Leisure products are designed to last from generation to generation. All you need to do is give it some minimal care (washing with soap and water and keeping it inside during the winter) and your chair will last long enough for your grandchildren to enjoy it as well.
Furniture that's Fun
Let's face it – not every boy and girl is going to want to just sit in a chair. If your child would rather move than sit still, the
Prairie Leisure Kiddie Swing
is sure to be a hit. This swing has the same attractive design as the other Kiddie chairs, but with a twist. It's suspended by ropes, allowing your child to swing to her hearts content. A seat belt and safety tray will help your kids stay safe while still being able to swing.
Furniture that Fits Your Home
One of the nicest things about Prairie Leisure Kiddie Furniture is the customization options available when it comes to color. There are seven colors available for you to choose from, including Fire Engine Red, Sage, Hunter Green, Berry Blue, Buttercup Yellow, Black, and Satin White. You can even get the furniture unfinished if you like. Whether you're choosing something fanciful like the
Prairie Leisure Kiddie Bear Chair
or a more conventional (but still kid-friendly) Adirondack, you can get exactly the color you're looking for.
Furniture for the Family
The Prairie Leisure Kiddie collection is perfect for kids ages 1-4. You can also find the same quality and craftsmanship in their
junior collection
, which is designed for ages 5-8. With beautiful, high quality furniture like this, you and your family will be able to face summer head-on and enjoy all the good times your backyard has to offer.