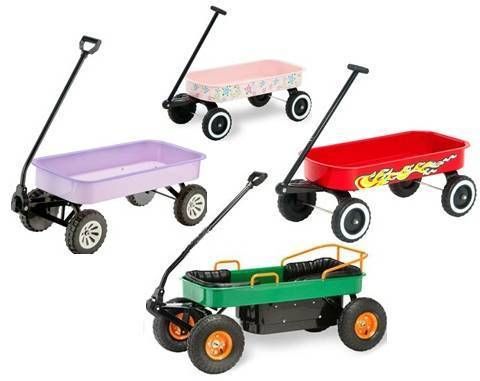 Give a kid a toy with wheels and you're in for a day of fun. This is especially true if
Morgan Cycle Wagons
are involved. Kids love being able to pull themselves and their toys around in these cute little wagons. Whether your child wants to bring a teddy bear with them to the park or if you need a place to stow a sleepy toddler, there's a Morgan Cycle Wagon that's perfect for what you want to do.
Perfect For Small Hands


Does your child have a stuffed animal friend that she brings with her everywhere? A tot wagon is a great way to give her a method to transport her toys. These wagons are sized perfectly for a toddler's hand and can be used both indoors and outdoors. They're even a great size for gift baskets, making for an adorable way to present a gift at a baby shower or birthday party.


An Easy Form of Transportation


Bigger children won't be left out of the fun with Morgan Cycle Wagons that are big enough for them. These wagons are designed to be used by kids age four and up. They're a great way to transport toys, picnic supplies, or even a younger sibling. For the most luxurious wagon experience available, the Morgan Cycle Coach Wagon can transport two children at a time.


Built to Last


Any toy that gets played with often is bound to experience some rough play. These wagons are built for this eventuality. They're formed out of tough metal that can handle the bumps of a busy afternoon of play. Durable wheels can deal with a variety of surfaces, and a solid handhold makes sure that even small hands can get a firm grip. There's no need to worry about harmful chemicals used in the wagon's construction – each one is coated with non-toxic paint.


A Rainbow of Color Choices


Let's face it – girls will probably look for something a little different in a wagon than what a boy would want. No matter what your child's tastes are, there's a wagon to suit them. Tot wagons come in red or pink, but you'll also be able to choose from some cute designs like
flames
, stars or
flowers
. The
coach wagon
looks stately with a deep green coating and black seating. Finally, any little girl will feel like a princess with a Bella Wagon in soft
pink
or rich
lavender
.
When a child has a way to carry their belongings with them they'll be able to go farther and do more. The choices in size, color, and shape all come together to make these wagons fit the tastes of any child. They're safe and sturdy, so no matter what adventures your kids go on you can be sure their Morgan Cycle Wagon will still be rolling along behind.