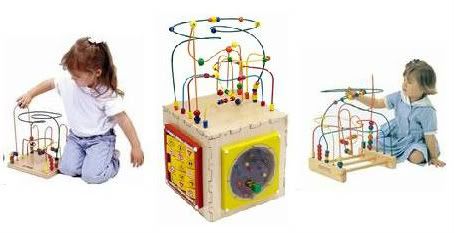 There's nothing more exciting than the rush of a rollercoaster. Kids everywhere love the twists and turns that come from roller coasters, and with Anatex rollercoaster toys they can relive the excitement of these thrilling rides.
What is an Anatex Rollercoaster Toy?
A mass of wires, rods, and beads that integrate to form an intricate wooden toy. Kids can come together to race their beads up and down through a wire maze. Much like a real rollercoaster, Anatex Rollercoaster Toys take advantage of loops, zig-zags, and drops. The bright colors and fun shapes help stimulate young minds, and the dexterity used to push the beads through the maze help create better hand-eye coordination and visual tracking.
With many models, the rollercoaster aspect is just the beginning of the fun. Other fun toys like alphabet blocks, memory games, gears, tic-tac-toe boards, and abacuses can be included underneath the coaster. Some coasters even come with special themes like a submarine or outer space. No matter where your child's interests lie, there's a coaster that will awaken their imaginations.
How Are They Made?
Anatex Rollercoaster Toys are made in the USA. Designed for use in public areas (doctor's offices, daycare facilities, waiting rooms), these sturdy wooden toys are able to stand up to the abuse that comes from active play. The wires and beads feature fun, bright colors and shapes. There are a variety of sizes available, from tiny miniature coasters to sprawling tables filled with wires and beads.
Where Is The Best Place for a Rollercoaster Bead Maze?
If you're looking for a toy to breathe new life into your waiting room, look no further than Anatex Rollercoaster Toys! Rollercoaster mazes are extremely popular among pediatricians and dentists. It's easy to see why! Children seem to gravitate towards these colorful toys. Peek into the children's area of a waiting room and you'll likely see a group of kids clustered around a rollercoaster toy, happily working together to race their beads along the wires. The size and complexity of these toys encourage kids to play together and make new friends.
Of course, there's absolutely no reason to leave all the fun at the doctor's office. Rollercoaster bead mazes are great choices for home use as well. These beautiful wooden toys will quickly become the centerpiece of your playroom. There's no need for a small living space to keep you from having fun – there are miniature roller coasters that are small enough for any space. Because they're built solidly, they'll last through as many brothers, sisters, cousins, and grandkids as you can come up with! Best of all, there are no loose pieces to lose (or swallow) and no mess to clean up.
If your kids or patients love the thrilling ups and downs of roller coasters, they won't be able to get enough of Anatex Rollercoaster Toys. These solidly made, colorful mazes of wires and beads will delight any young ones that come your way. Whether you're looking to rejuvenate your waiting room with waiting room toys or give your children a toy that will last, a wooden rollercoaster toy is the way to go.