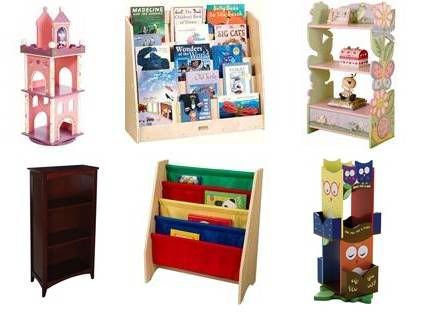 There's no question that kids love books. Even before they can read, there is nothing like snuggling up with their favorite caregiver for a story or two – or ten. But when story time is over, you need a place to store all of their favorite volumes. With these adorable bookcases and shelves, you can teach them how to care for the books that will provide them with a lifetime of memories:
Guidecraft offers an amazing selection of kids' bookcases for the home and daycare center. Start their library out right with hand-painted and carved themed shelves, or store the largest volumes with their big book storage box. Single-sided book storage with hanging canvas sleeves allows smaller children to find their favorite stories by the pictures on the cover; for the classroom or waiting room, dual storage book browsers are the perfect solution.
Whether you prefer a classic wood finish or brightly-painted, themed furnishings (the princess and firefighter versions are customer favorites), Kidkraft has the bookcases you need for all of your storage needs. Sling bookshelves that hold picture books with the covers facing outward are great for smaller children, while young readers love the stacking puzzle bookshelf.
For something different, look for the whimsical rotating book towers from Levels of Discovery. You will find something for every child with these unique book storage shelves – from a princess castle to firefighter fire hydrant theme to adorable owls to friendly monsters. Book towers are perfect for smaller spaces and work well in a day care or preschool setting where multiple children are likely to be browsing at once.
Teamson Kids is noted for their beautifully-crafted themed children's furnishings, and their bookcases are no exception. Choose from the popular Magic Garden design, or set off on a new adventure with the Sunny Safari and Under the Sea book themes; if trains, planes and automobiles spark their enthusiasm, the transportation series is the perfect fit. Don't forget the matching bookends to keep their treasured books in place!
Where to Find Great Deals on Bookcases and Shelves for Kids
You can find a great selection of bookcases and shelves from these trusted manufacturers at A Kid Place online; even more brands are coming soon! Visit us today for our fantastic selection of children's items! From kids' furnishings to baby monitors and high chairs to the highest quality educational toys, you will find everything you need for the playroom and nursery. All items are sourced from award-winning manufacturers who specialize in quality products for children and meet or exceed government safety standards.