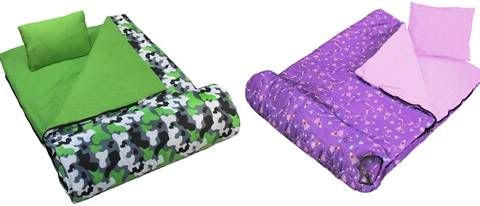 Taking a trip with your family is always fun. Whether it's inside a tent at your favorite campground or a night in the living room next to a fire, changing up your daily routine is a great way to make fond memories. In order for your kids to have the best experience possible, though, they'll need a safe and comfy place to sleep. Wildkin Sleeping Bags are the perfect solution.
Wildkin Sleeping Bags are designed to be a soft, comfortable and safe place for your children to get some shut-eye. The cotton/polyester exterior is naturally flame resistant, so there is no need for them to be treated with flame-retardant chemicals. Each sleeping bag comes with a storage bag and elastic storage straps to make packing up and traveling much easier. They even come with a travel pillow to make sure your children have a good night's sleep wherever they go.
These sleeping bags are designed for kids up to five feet tall. Because they can open up and lie flat on a bed, you might find that your child likes his so much he wants to sleep with it every night! You'll also find that they come in a variety of colors and patterns that will suit any child's taste. Here are a few of our favorites:
Most Wildkin Sleeping Bags have matching nap mats available to create a cohesive naptime environment.
No matter what your kids fancy, they'll love bedding down in these comfortable and fun sleepig bags. Whether you're traveling the world or putting up a tent in the backyard, these bags will keep your children safe, warm, and happy.